"Of Errors & Truth" finally published!
Very happy indeed to see my new baby out there at last! My translation of Louis-Claude de Saint-Martin's 1775 book "Of Errors & Truth" is now available in hardback and paperback versions on amazon.com, and already appearing on other websites and global Amazon sites.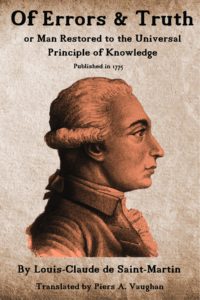 For a fleeting moment of fame it was listed on the Amazon site as #1 in Mysticism and #2 in Freemasonry (well, who can beat a good conspiracy theory book on the Illuminati?). They have some good promotional discounts at the moment – I don't know how long they'll last…
This of course means I'll be tackling his second book, published in 1782, called "Natural Table" in the near future. The books really form a pair, and his second, pre-Boehme one, expands on his thoughts in "Of Errors & Truth".
But in the meantime, I've moved onto a book by Papus which has never been translated into English. This is his "Elementary Treatise on Practical Magic" (1893), which is a perfect foil to "Of Errors & Truth", since it covers a fair amount of similar ground, but from the perspective of science one hundred years later. Again, it provides a fascinating insight into the times of the Salons de la Rose Croix, life in Paris just after the 1889 World Fair, as Parisians were getting used to the newly-built Eiffel Tower, Papus' thoughts on the Theosophical Society (not positive!), and the medical and esoteric fads of the end of the 19th Century.
I hope to have that completed by year end. In the meantime, enjoy "Of Errors & Truth"!