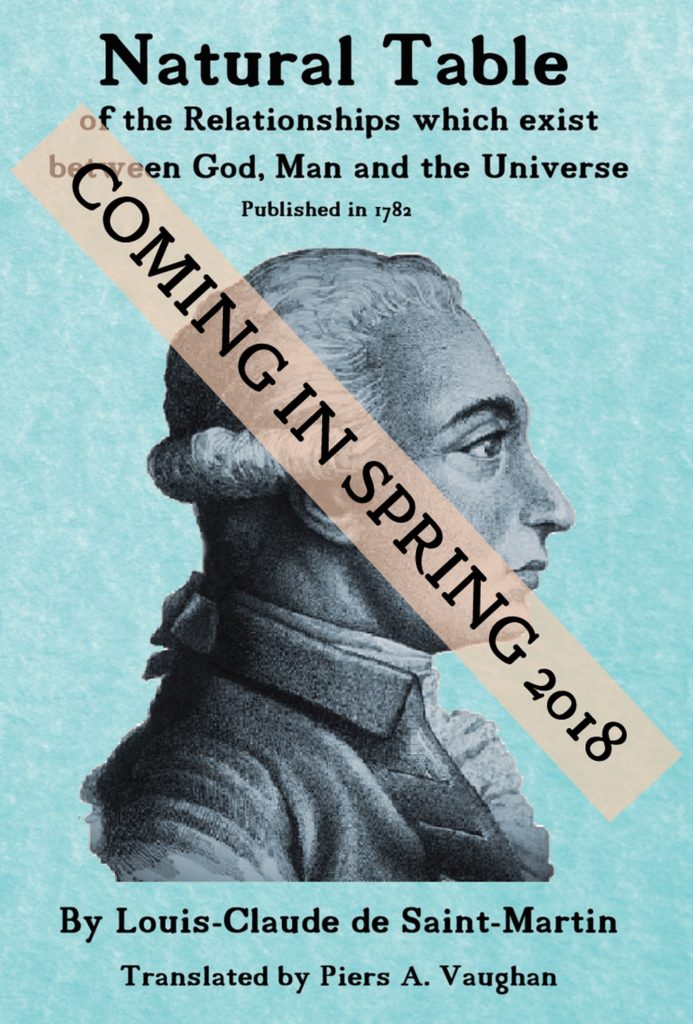 Natural Table of the Relationships which exist between God, Man and the Universe
Now that the Papus book is now generally available, I have started work on my next project.
Back in 2003, I translated a number of Chapters from Louis-Claude de Saint-Martin's second book, Natural Table, which have since found their way into many places on the internet. I note that they can be found in places ranging from Scribd to a CD you can purchase from a site in the Netherlands. Since all these good people appear to be making money from my work, yet I am not (!), I decided it was time to complete this work, which is the companion book to Of Errors & Truth, and to regain control over it.
I hope this translation will be completed by late Spring of 2018, when you will see this book available in English for the first time. Published in 1782, or seven years after Of Errors & Truth, it continues the ideas first put forward in his first book, but now with the benefit of maturity and experience. It is an easier read, since he has not developed his own ideas, and we can see him moving away from a slavish representation of Pasqually's model, as he begins to move towards a more mystical interpretation of gnostic Christianity and away form a purely theurgical approach.
Curiously, keeping control over one's own works is more difficult than you may imagine. For a number of years Google has been running a so-called service of turning as many books as they can lay their hands on into PDFs, to make freely available to the general public. Now, this would be a wonderful service if it focused on books out of copyright. However, you can imagine my shock to find my translation Of Errors & Truth, which is only 4 months old, was already put up on their site as a free resource. Fortunately, the Writers' Guild is currently suing Google for rather a lot of money to stop them from destroying the livelihood of contemporary authors. How Google can think this is ethical is totally beyond me. I am currently attempting to compel them to take my work off their site.